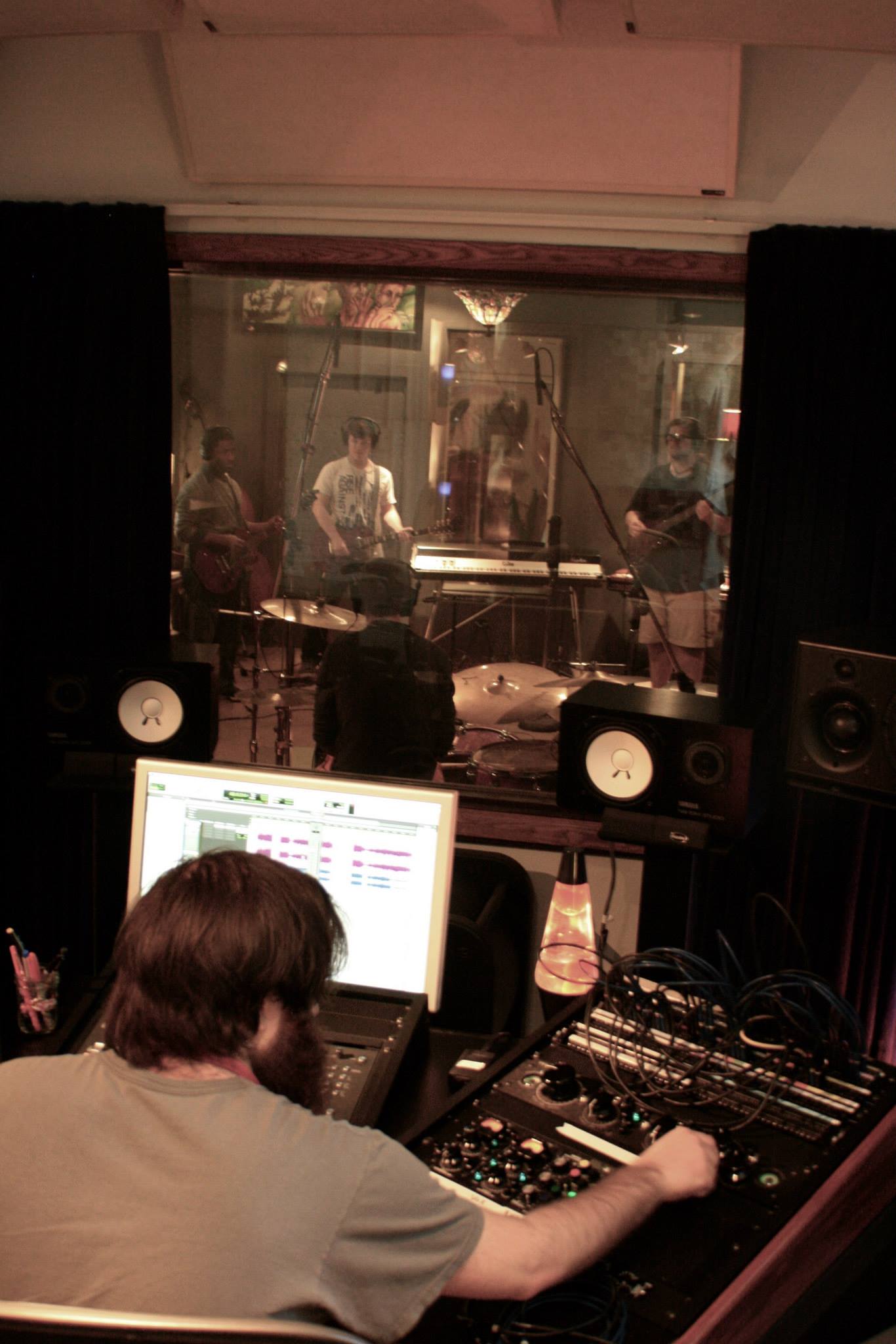 Rehearse, React, Record: Confessions of a Band Coach.
This is my fourth entry within my series of Confessions of a Band Coach. I spent most of my last entry talking about the band I'm worked with from Visible Music College Chicago over the Spring 2015, and their first concert. But, in my second entry, I shared about the songwriting process for my students' new album release in May. In this entry, I want to share with you about how the rehearsals and tracking for the new album came together at Gravity Studios in Chicago .
My colleagues and I decided on five songs for this album – each song with it's own unique sound and style. With three bands each recording an individual track, the other two tracks would be covered by small solo artist combos assembled of individuals from each of the three bands separately. Following Spring Break, we had a meeting with all 3 bands: Under the Sun, Old Alliance, and my band, The Subdominants, to discuss each of the tracks which were on the list to be recorded. Also during our meeting, we announced the small solo artist combos, and arranged for a weekly rehearsal schedule. We landed on a four week stretch of weekly one hour tracking rehearsal with each group on Tuesday evenings and Wednesday afternoons. Each group would rehearse their song, and arrive their tracking rehearsal to be reviewed myself and the other two Band Coaches. So, with five original songs, five groups, and five hours of tracking rehearsals added into our schedules, everyone began to work.
Our goal was to prepare as meticulously as we could prior to arriving at the studio. So each week, each group rehearsed the songs away from the musical directors, and then came in front of us to be reviewed. We established one hour sessions with each band or combo, and during each session the group came before the musical directors to play their work for the week. As each group performed, the song-form, sound and style, as well as harmonics and syncopation was reviewed for accuracy and development against a song-form sheet we kept for each group. Every group showed a lot of courage as we listened, rearranged song structures and instrumentation, redirected creative ideas, and critiqued consistency of musicianship.
The first two weeks were given to breaking ground on each song, and the last two weeks were given to scratch tracking in our on campus studio so everyone could stop and actually hear all that was going on. This process is always humbling for musicians. Often what we hear in our head, sounds different on the actual recording, or to other people in general. Everything is exposed: every nuance, every inflection, every inconsistency. And again, our goal with tracking rehearsals was to prepare as best we could over the four weeks, so we were able to give our best raw tracks to Gravity Studios during our recording session time.
We named the album Bigger Than Me after one of the songs, which caught the vision of the entire album. Our heart with this album is to encourage faith in God and proclaim His strength for our lives. Musically, the album is exploring high energy electric pop, reflective acoustic, and even heavy metal. With the variety of genres, scope of lyric, as well as layers of instrumentation and musicianship, each group had their work cut out for them.
After four weeks of rehearsals, we spent two days at Gravity Studios doing the actual tracking. Each of the three bands, as well as members in the small artist combos were given opportunity to track their songs. We tracked the five songs individually based on instrumentation, starting with the largest group and/or various instrument layers to track. After a song was recorded 2 – 3 times from start to finish, we would then track sections with certain instruments, or certain individuals, as was necessary. Being in the studio is very much a "hurry up and wait" kind of reality. Thankfully, the guys at Gravity were incredibly professional, flexible, and patient with us; which made our experience feel very comfortable and safe.
The saying really is true, "a picture is worth 1,000 words." So, rather than me telling you more of the studio tracking story, I want to invite you read the story of our tracking experience through viewing the images. Click on the photo albums called "Studio Tracking."
Thanks for reading. That's my story. For today. Peace.