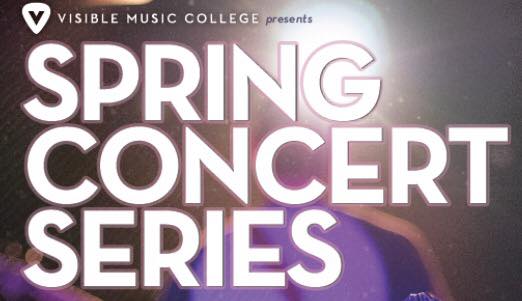 LIGHTS, CAMERA, ACTION: Confession of a Band Coach
This is my third entry within my series of Confessions of a Band Coach. I spent most of my last entry talking about the songwriting process for a new album my students are releasing in May. In this entry, I want to share with you about my band and their first concert!! Along with their other peer bands Under the Sun and Old Alliance, my band The Subdominants, performed to a packed house at Visible Music College Chicago on March 6. I'm so proud of them!!! But, to understand their journey here and beyond, I need to tell you a bit about them. So, here we go!
The Subdominants have four members. They chose their own band name (insert awkward music theory joke laughter here) and were formed at the beginning of this semester. They formally rehearse together twice a week. While each of them are multi-instrumentalists, together they form a band comprised of a lead singer, a drummer, and two guitarists who play combinations of acoustic, electric, and bass guitar.
Throughout their preparation for their first concert on March 6, The Subdominants and I collaborated on choosing their songs, participated in a band photo-shoot, and rehearsed the entire four song set. This first song set was chosen so they would have a small set with a distinct inspirational Christian message which could be performed on their May Tour. In addition to all of this, they gained studio recording experience, and participated in offering a short audio sampler to help promote the May Tour by scratch recording the cover song Proof of Your Love (written by for King and Country).
Early on in the semester, as I began to work with them, I had to establish the culture of rehearsal I expected from them. I knew each of them individually (personally and musically) a bit, but they were new to each other. To pull out the best in them, I challenged them to come early to rehearsal, so they could be set up and ready to go right when rehearsal began. I also called them to a high standard of commitment to each other in rehearsal so, they would be more than just 'productive', they would be energized as a group. Because of their respect for each other, and myself, they each deepened their personal investment in the band. Within our first two months of rehearsals and concert preparation, The Subdominants gelled quickly as a band and demonstrated perseverance in developing their individual technique. And as each song brings its own challenges, I am proud of how they have pressed in, and navigated their instrument makeup to cover songs by varied artists and genres.
The March 6 concert, showcasing our three bands, fell early within the Visible Chicago's Spring Concert Series and was hosted right in the auditorium venue on the campus. As you can see from the house shot, our venue seats about 75 people comfortably with a mix of couches, unique chairs, and high chairs with bistro tables. Along with coffee we sell for $1, the stage light, the candles and lamps light up the venue on a dark evening, and our venue becomes a great coffeehouse hosting great live music in south Chicagoland.
Prior to the show, The Subdominants had a little more time than anticipated during their soundcheck. So thankfully, they were able to run their entire set before the show started. This was helpful to them, as overall the check was challenging and a few parts needed attention, which got them a bit nervous for the show. But they shook it off, gathered for prayer before the show, and walked on stage for the concert after I introduced them. As they took the stage, they were met with applause and got themselves set. Felis, their lead singer, greeted the crowd and invited them to enjoy. Before taking a break, they performed two songs right away: Starts with Me and Where is the Love. As these two songs carried quite a bit of energy, they engaged the crowd very well.
Before they performed Proof of Your Love, Felis told a short story, connecting how his personal hope of living a life of love would show the proof of the love of Jesus Christ. As I watched Felis tell his story, the audience energy seem very connected to the band more deeply. This was evidenced by people giving verbal affirmations and clapping when they found agreement. This also energized the band as a whole… which was pretty awesome to watch! After that performance, The Subdominants then went into a simple reggae groove, while Felis introduced each of the band members. He also acknowledged a guest bass player joining them for the final two songs. After introducing everyone, they performed their final song, Closer Than You Think. When they got done performing, the crowd applauded them energetically, and they left the stage.
Overall, I am very proud of their first live performance! While not perfect, I am very proud of their work ethic and artistry! As they journey together for the rest of the semester, I clearly need to establish clearer rehearsal and preparation goals with them so they're not scrambling during a soundcheck. Their next performance is on May 1, and following Finals, they leave for their May Tour. Their last concert on the May Tour will be at the Historic Ford Hangar right in Lansing, IL on May 28!
Until next time… Thanks for reading. That's my story. For today. Peace.