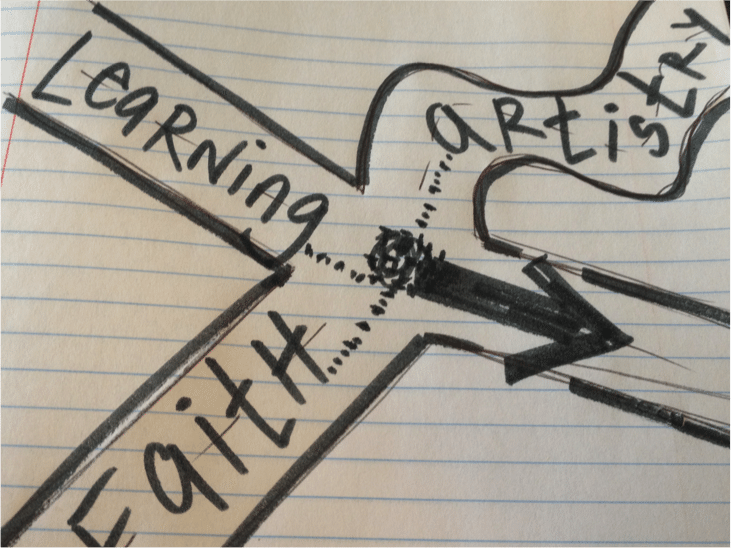 So Artistry, Faith, and Learning walk into a…'classroom'
Recently I submitted an application for a position with a Christian University.  In the application, they had some questions for me to answer.  This essay was my response….
Within the academic discipline of music, it's difficult not to acknowledge, recognize, or infuse scriptural text of how God's creativity is manifested.  Music in itself, is really just a medium of expression.  This expression naturally mirrors the creativity of God, brings glory to God, and serves a universal language moving people's intellect and emotions towards a posture of surrender toward God.
As a music educator, music pastor, and Christian, I have always tried to find the right approach of how to intently contextualize Christian faith into curriculum and conversations.  Within a daily classroom setting, I find it very appropriate to offer an invocation or benediction, invite private conversations for prayer, as well as select key scriptural texts  which fundamentally direct, inform, and create a framework for curricular material.
I believe as trust and rapport are built, the foundation for student learning is established.  As a student myself, the trust which I gave to my professors was only reciprocated.  My life, and career, has been catalytically transformed through the mutual partnership and agreement of a proper student-teacher relationship which only cultivated my heart, mind, and skill simultaneously.  Because this was my experience as a student, I'm very interested in allowing that kind of partnership to influence students I would have either 1on1, in a class, or in an ensemble.
My Christian experience is only realized by the transforming of power of Jesus Christ at work in my life.  After coming to faith when I was a child, my life was nurtured by my parents, community, as well as the local church encouraging me to serve God wholeheartedly.  The many voices and faithful people who poured into my life through discipleship, programmatic ministry, musicianship, and service has only proven the African proverb to be true… "it takes a village to raise a child."
The reality of my life transformed by Christ joined with the communal African proverb also shape my understanding and approach for higher education and it can be actualized.  I see myself as one voice among a community of others who speak into, shape, exhort, and grow another generation of disciples for God's kingdom work.